Hog Roast Castlederg recently catered a party for Norma, who had asked us to cook for her husband Harry's birthday. We're often asked to cater birthday celebrations but we're also often asked to cater a lot more – from christenings to weddings and festivals to charity events. Our food is suitable for anything that you can think of and whatever you're planning, we can wow your guests and do you proud.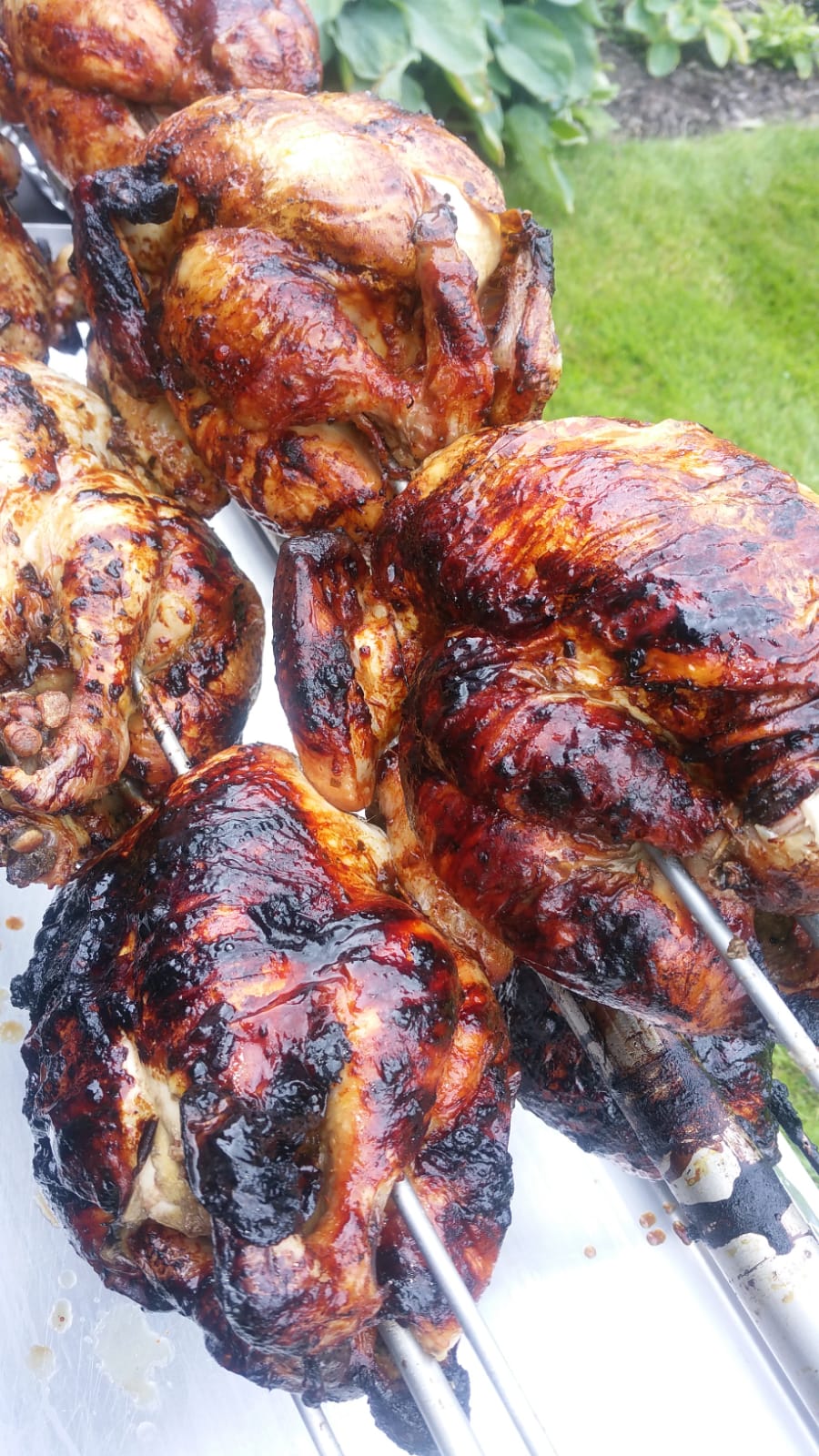 Norma knew exactly what she wanted to surprise her husband with – piles and piles of our famous pigs in buns, which the couple has enjoyed from us in the past, but she also needed to ensure that any guests with dietary needs or different preferences would be covered too. When it comes to choice and variety, as well as catering special diets, Hog Roast Castlederg is number one, and we've spent years perfecting our menus in order to do so. Browse our various menus and you'll find something for everyone, and that includes alternative meat options like spit-roasted turkey, lamb or beef, or even barbecued or marinated possibilities.
For Norma, she needed us to provide a vegetarian option and a second meat dish, for those who wouldn't want to eat pork. For the vegetarians, we would grill halloumi and various veg to make our skewers, which we would serve with a lovely dip and pitta bread, and for the additional meaty dish, she asked us to spit-roast whole chickens.
On Saturday, the day of Harry's birthday, our Hog Roast Castlederg chef and catering assistants arrived at the community hall venue and set up our equipment outside. Our trusty hog roasting machine warmed us up in no time at all, once the pig was sizzling in its own juices, which we watched over for hours. Later in the day, we freshly prepared the chickens and set them cooking too, and nearer the time of service, we made our kebabs with the halloumi cheese as well as mushrooms, tomatoes, red onion, courgette and mixed peppers. By 6pm, we had a delicious feast ready and Norma and the fifty guests surprised Harry with a fabulous party and we surprised him with his favourite food.