Your wedding day is such a special day that you'll want it to feature special food, and with Hog Roast Aughnacloy, we can provide much more than you might have imagined. Our hog roasts are famous, both locally and further afield, but so are our spit roast meats too, as well as our barbecued and marinated meats. As you can see, your carnivore guests have a whole host of options on offer, but we also have plenty of choice and variety when it comes to alternative main dishes too, so if you need any special diets catering, like vegetarian, vegan or gluten-free, just let us know in advance of your wedding day and we can help you to create your own menu.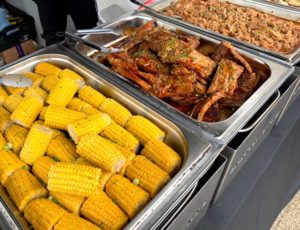 When it comes to additional options for your wedding meal, we also have a wealth of possibilities, including canapés, starters, desserts and sides, and with all kinds of hot and cold options, Hog Roast Aughnacloy can cater regardless of your wants and needs. Our trusty hog roast machines, which we designed and build ourselves, are gas-powered and are easily manoeuvred, so we can cook in just about any type of location you're thinking of, without needing mains electric, and we have various sizes of machines so we can cater for hundreds of guests or just a handful if needed.
When Rick and Nancy's wedding co-ordinator Jenny asked Hog Roast Aughnacloy to cater, it was with our highly popular Southern Slow Roast Menu, where we prepare, cook and serve your choice of three marinated meats and four sides. In this case, we were asked to cook bbq pork butt, beef brisket and sticky pork ribs, as well as sides of mac and cheese and sweet potato wedges with a kick, and prepare two salads for the couple and their forty guests too. We often deal with wedding and events co-ordinators, as they can make your life much easier, especially when it comes to planning a large function.
On the day of Rick and Nancy's marriage, our team members cooked up a great feast, and after hours of the meats sizzling away to perfection, we happily served plate after plate of delicious, mouthwatering food, and it all went down a treat.