Whatever the weather, you should be able to enjoy any special occasion that you're planning where you want it catered outdoors, and Hog Roast Rathfriland can easily make that happen. With marquee tents and gazebos available to hire, and the fact that we cook underneath a gazebo, your party or event can still be enjoyed just as much as an indoor one even if it's pouring down, blowing a gale or snowing. Nevertheless, sometimes our customers want indoor catering, and as long as the venue is big enough and well-ventilated, we can do that too.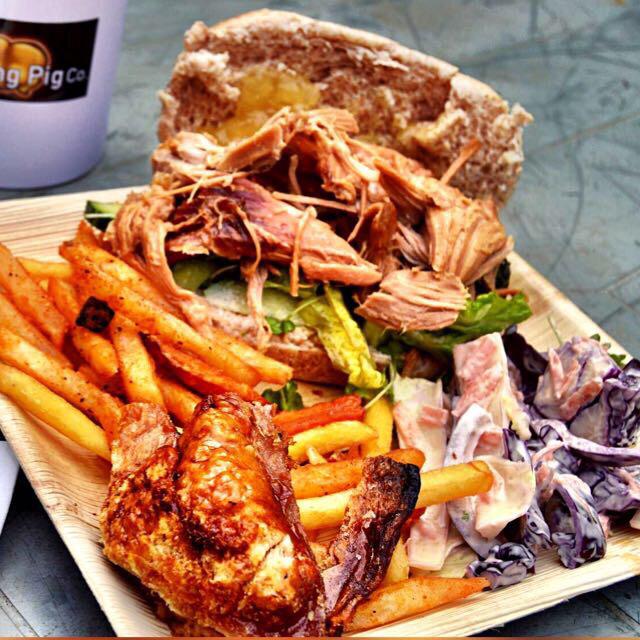 For an event that our highly-experienced team catered over the weekend, we were asked to cook inside a school hall, where two of our famous Hog Roast Rathfriland hog roasts would cook slowly but surely for several hours, filling the hall with tempting aromas that would make many a mouth water. When our customer asked us to cater the function, he said he wanted piles of pigs in buns for around 150 people but he also wanted to ensure that the vegetarian and gluten-free guests would be able to enjoy our delicious food too, and having used our services before, he knew we could easily do so.
Here at Hog Roast Rathfriland, we not only cook hog roasts but spit-roasted and marinated meats too, and we also offer alternative dishes to satisfy various diets, such as vegetarian, vegan, plant-based and gluten-free. We can also cater more diets, you just need to let us know your needs when booking your party and our chefs will make sure to create a tasty suitable dish on the day. Additionally, if you are thinking of extra food to be served, our homemade canapés, starters, sides, and desserts could be exactly what you're looking for or one of our speciality menus could be just the ticket. Whatever your requirements, we always work hard to exceed your expectations.
On Saturday, our chef and catering assistants took along some gluten-free bread rolls, cooked mains of hog roasts and halloumi and veg skewers and made sure that everyone attending enjoyed a great feast and not just the majority.