I always love catering children's parties as they're such fun but themed ones can be even better, so I was excited to help provide a scrumptious Hog Roast Dunaghy feast for a Minecraft party for Heath's 9th birthday. Now I'd heard about Minecraft and just how popular it is with kids these days but I wasn't sure what all the fuss was about, so while Heath and his friends were looking forward to a delicious Hog Roast Dunaghy, I was looking forward to learning a little about this strange 3D block game…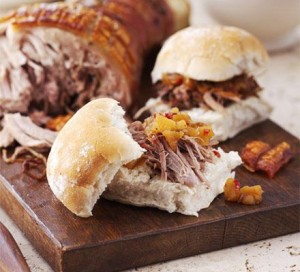 Heath's parents asked us to cater with our lovely pigs in buns (what we call hog roast rolls) as well as a different option of baked potatoes in case anyone decided they didn't want to eat the meat. Kids can sometimes be a bit wary of a hog roasting away slowly in front of them, whether or not it still has its head attached (and most don't these days), but on this day, Heath and his friends were more than excited to see the spectacle for the first time and to take in the wonderful aromas that only a slow-roasted pig can provide.
When we arrived at the family home to start preparing the meat to be cooked in the back garden, it was a cold and dreary winter morning, but that didn't dampen the spirits of the birthday boy and his close friends he had invited over for the day. They put on their warmest coats and hats and gloves to watch as I scored the pig all over in diamond shapes and then added water and salt before turning the machine on. Heath decided there and then that he wanted to be a hog roaster like me when he grows up, but for now, while the beast sizzled away for a few hours, he wanted to be a Minecraft boss instead, and so I watched as the kids tried to explain all about Minecraft…
A few hours later (and me not much wiser about Minecraft), and it was time to fill soft, floury buns with juicy bits of pork and salty crackling, as well as our homemade stuffing and apple sauce. The Hog Roast Dunaghy was a big hit and it was the first time that day that it was quiet in that back garden, as all the boys' mouths were full of our yummy pigs in buns.