When you've been with your spouse for many years, it can be difficult to really surprise them. For your tenth anniversary, maybe you bought your other half a gift made out of tin to celebrate (although in the US these days, diamonds are a girl's best friend for that special occasion!) After 20 years, maybe it was something made out of china, and then 30 years later, it was time to splash out on some lovely pearls. Then you get to forty years together, and while rubies are certainly lovely to give your wife as an anniversary present, sometimes giving something that's expected on that day just isn't enough. And that's why our customer Roy decided that his wife May would love to be surprised with a good old Hog Roast Dromara instead!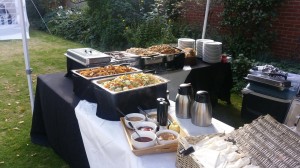 Having hired our hog roasting machines and choosing us to cater several family events over the years, Roy and May are big fans of the way we slow-roast a hog from scratch, right in front of them. They love the way it fills the air with the sweet, unmistakable aromas and they love our service and attention to detail, but the thing they say they love the best is the taste of the meat as it melts in their mouths.
Roy put a plan into action where on the morning of the anniversary, May would think he'd forgotten for the first time in his life, and he would take her out for a long drive and plenty of shopping to try and make up for it. Meanwhile, however, we would have access to their back garden to set up the equipment, roast the smallish hog for a few short hours and let the guests in.
On the day of the party, everything was going to plan but when the couple got home, May could immediately smell the Hog Roast Dromara that had been cooking away, so she knew that would be awaiting her before anyone even got to shout, "Surprise!" Still, the anniversary was a huge success and the close friends and family members all agreed that a Hog Roast Dromara was better than any rubies, and that's when romantic Roy pulled out a box of ruby earrings for May as well!