We've just helped Hannah celebrate her 90th birthday party in style, with delicious Hog Roast Clough rolls and a salad buffet at a lovely local hotel. Hannah booked the weekend event herself, and sent out invitations to her family and friends. Added to the invitation was a note asking if there were any alternative dietary requirements, and when there were replies concerning gluten-free and vegan options, Hannah got on the phone to see if we could help. We can always cater for anything like this, so it wasn't an issue at all. We talked Hannah through the different choices for vegan guests, and she chose our homemade mushroom bake for two people, and we let her know that gluten-intolerant guests can eat nearly the same as the other meat-eaters, just with gluten-free bread rolls that we could bring along in addition to our usual ones. Happy as anything with this all booked in, Hannah said she looked forward to meeting us on her birthday.
The special day came around and we arrived at the hotel venue early in the morning as the lunch service would be around 1pm. Hannah greeted us and excitedly watched as we prepared the free-range local pig for its roasting. This would be her first ever Hog Roast Clough and so she couldn't wait for later when she could tuck into the meaty sandwiches. Once prepped, all we had to do for the next few hours was turn on the machine and keep a close eye on the hog as it cooked through.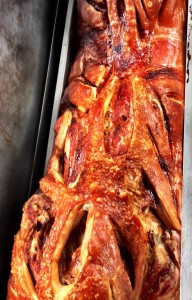 When we serve our lovely pigs in buns, they are always in nice and soft floury buns, with slices of meat and crackling carved fresh off the beast and topped with our homemade stuffing and apple sauce. This day would be no different but we'd also brought along some fresh salad leaves, potato salad and coleslaw too. We can instead provide vegetables instead of salad if preferred, as many people do in this chilly weather. For Hannah's 90th birthday, however, she wanted salad to go with her Hog Roast Clough rolls, and we watched her face light up as she took her first bite. We know it won't be the last time she enjoys a hog roast now, as she said she's been bitten by the bug!