I have worked as a chef for The Spitting Pig for many years now, and catered all kinds of different events and celebrations. It's always a joy to see the smiles on faces of the people that I cook for, whether it's at a fun birthday party or a corporate event. I dearly love to roast a nice bit of beautiful pork that turns out crispy on the outside, full of that delicious crackling, and moist and tender on the inside, with meat that will melt in your mouth. This is always what I aim for – real, quality, tasty food and putting smiles on people's faces.
This last weekend, I wasn't the only one putting smiles on guests' faces, though, as it was a birthday party full of clowns! The theme for this teenager's 13th birthday was the circus, so there were lots of cute kids dressed as clowns, some wearing animal costumes, and even an old-fashioned circus strongman in leopard-print (the birthday girl's brave Dad!) Some of the entertainment included clowns too, so the party was full of smiles and laughter, as well as some slapstick humour, mime and plenty of buckets of confetti.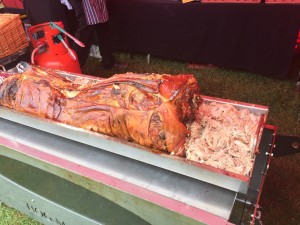 There were lots of excited faces, both young and old, when we arrived and prepared the hog for roasting in Loughmacrory. Children tend to ask lots of questions about the meat and the cooking process. Some little kids can be a little squeamish or unsure at first when seeing the animal, but this usually changes once they try the lovely tasting meat.
You may not know that it's important for the meat to rest, before we begin to carve it. This doesn't mean your hog will be cold when we serve it to you though, as it retains its heat. We just need to let it rest a while before cutting into it. So once the pig was perfectly cooked on this day, we let it rest. I think they thought we were clowning around too! Once it was time, we had a long queue of adults and children, all craving their first taste of the Hog Roast in Loughmacrory.