On Wednesday the heavens were open and rain was pouring as we headed to a community centre in Draperstown to cook for a local football clubs annual celebration and awards event, luckily for us even though we were setup outside, our gazebo protected us from most of the rain and our machines while cooking provided warmth from the days windy weather. Although these conditions aren't ideal, they don't stop us from providing our best services and keeping our food to a high standard.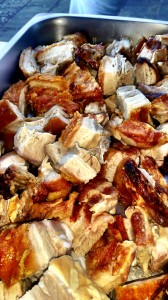 Upon our arrival we got straight to work to prepare our hog roast in Draperstown to feed the 500 guests with our delicately and expertly made meal. With us we brought a 60kg hog to prepare with seasoning then slowly cook to perfection over the course of six and a half hours to a point in which its tender and just melts in the mouth. As guests arrived at the venue they could smell the mouthwatering aroma of our hog roast in Draperstown wafting across the air. A sense of excitement started to brew as those in attendance started to look forward to our food.
Our succulent hog was on the menu, but there was much more on the buffet. When it came to meat to accompany the hog with its crackling, stuffing and applesauce was tender chicken with onion based gravy, gourmet sausage and mini burgers. As well as this we served various homemade sauces, freshly baked rolls, buttered rosemary potatoes, crispy salads, quiches, kebabs and a stir fry. We also had a few small options for dessert, guests always end up full but still find the room!
The package requested included our own team of waiting staff to aid with serving the hog roast in Draperstown, as serving time dawned our chef carved into the various meats and guests were overjoyed that they could indulge in our prepared food, as food was dished out to the guests it was met with compliments and cheers, our food went down well and many requested seconds and thirds, which we happily served. By the end we were out of food, only scraps remained. All that was left was to pack up and the day was done.