The blog post today follows one of my most exciting catering experiences supplying delicious food for a new local wine bar opening in Lisburn. The owners had asked Hog Roast Lisburn to cater for their grand opening of their brand new business venture a couple of months earlier. Through phone calls and emails we came up with a delicious menu personalised to their needs which went down brilliantly!
The venue itself was a beautiful log cabin styled bar with a small terrace out at the back. Unable to cook our food inside, we arrived several hours before the launch party was due to begin to set up our equipment and get the food going. We pride ourselves on our succulent meats and the only real way to achieve this every time is through skilled and careful slow roasting which takes time and willpower not to dive right in too early! On this particular day we were cooking up two meats for the guests – one of our classic slow roasted free range pigs and a delicious whole roasted chickens, served juicy and golden! The hosts had chosen a range of tasty sides and accompaniments for their meats including a freshly prepared tomato and mozzarella salad seasoned with rock salt and crushed black peppercorns – and a hot side option of herby, buttery new potatoes that as ever go down a treat!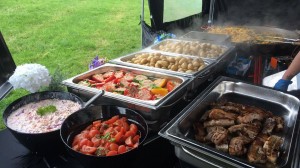 As guests arrived at the venue, we began to serve up and carve our meats as well as whipping up our condiments which are always made on site to ensure that they are the freshest they possibly can be. We created our special recipe sweet apple sauce (an absolute must with any hog roast!) and our yummy sage and onion stuffing. As a band entertained the guests with delightful background music, a long line began to form at our serving tables out on the terrace as we served up our just carved meats and guests helped themselves to plenty of salad, potatoes and floured bread rolls.
Finally, after a generous glass of red wine from the hosts as a thank you for our catering, we began our clear up which as ever is discreet, quiet and quick to ensure minimum disruption to all events, allowing guests to party into the evening with full and happy tummies thanks to ourselves at Hog Roast Lisburn.