If you're getting married this autumn season and you're trying to figure out which food catering to have on your special day, imagine a fresh, whole hog, slow roasted from scratch over a few hours, filling the air with distinctive, rich, meaty aromas. It looks and smells simply amazing, your guests will love you for it and you'll never regret the lasting memories you made with such an irresistible type of cooking from hog roast Feeny.
Dan and Charlene decided to choose our catering services for their rustic autumn wedding reception meal, asking for our luscious hog roast Feeny rolls as the main. Their guests would arrive to a welcome bubbly drink served by our waiting staff, be seated for a lovely starter, fill up on the fantastic hog roast Feeny dinner and then finally try and squeeze in the dessert of the wedding cake. We talked through the many menu options that we have and for the starter, the couple wanted our finest smoked salmon with prawns and avocado for most of the guests, with an additional stuffed mushroom for a vegetarian guest, with the veggie main course being a hot, homemade vegetable tart.
On their special day, while Dan and Charlene were exchanging vows and becoming husband and wife at a nearby church, our team were busy in the hotel venue gardens. We had set up a large marquee for the 80 guests and slow cooked a huge beast of a hog for nearly 7 hours. The reception drinks were ready and waiting, the starters had been freshly prepared on-site, and then the guests started to pour into the marquee, giddy from the romantic theme of the day. The starters were a big hit but we could see eager people just waiting impatiently for their main course.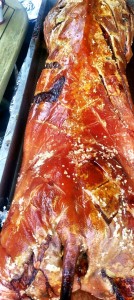 While the pig was resting, we were occupied with slicing the soft bread rolls, filling the dishes with apple sauce and stuffing and arranging the serving station with tasty condiments. Carving off the crackling made most of the guests jump from their seats, as they must have known it was nearly time to eat! We had queues start to form as we cut into the hog and filled the trays with freshly-sliced pork and then it was time to first serve the happy couple and wish them well, and then finally serve plenty of their hungry friends and family.