We often cater corporate events, providing company staff and clients with tasty food derived from fresh, quality ingredients. When Alice called us enquiring about our corporate hospitality packages, it was with her amateur theatre group in mind, as she wanted to thank the members for all their hard work and dedication with a finger-licking hog roast Ballymena. We can provide all kinds of food for your event, but at this time of year, we also add our winter warmer menu to the list, as it is very popular for outdoor events in this chilly weather. Alice decided that was just what they needed, so booked us in for a winter warmer hog roast Ballymena in the grounds of the church hall where they always meet up.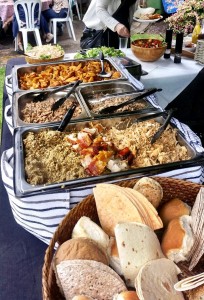 The day before the function, Alice called and apologised profusely, saying she had found out there would be a gluten-free guest at the party, but something like this is not a problem for us, as long as we have advance notice. Nevertheless, this hog roast Ballymena was already suitable for someone with this dietary requirement (if it had been pigs in buns, we would have just had to bring along suitable bread rolls). This meal of pork and vegetables, with our homemade gravy and apple sauce, was already fine for the gluten-free guest.
On the day of the party, we went along to the gardens of the local church hall and set up our machine and serving station, underneath our gazebo. Cooking a medium-sized hog for around 25 guests would take several hours, so we got cracking with the preparation of the meat. Alice had asked us to cook a tray of beetroot, squash, and carrots, which we would prepare from fresh later on while the hog was roasting away in its own juices.
Nearer to the food service time, the performers and backstage crew started to arrive and we had so many compliments on the smells and the sight of the food, especially the spectacular hog, of course. There was a round of applause when we started to carve off the pork crackling and juicy slices, and it was soon time for everyone to dig in and warm themselves up. There was plenty of meat and veg to go around, so the guests queued up for seconds or more.