It was an exciting event that Hog Roast Kesh recently catered, the team worked together to produce a delicious buffet for 50 very lucky guests at their clients' big engagement party. Not only was there a delicious buffet courtesy of the Hog Roast Kesh team, there was also lots of carnival rides and a candyfloss stall for the guests to enjoy.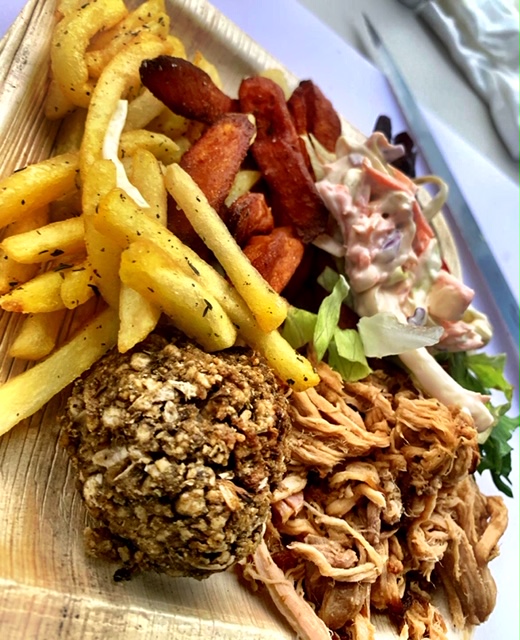 The guests started to arrive at the venue by 6pm and after having enjoyed their flutes of champagne and the speech by the happy couple the guests were free to enjoy themselves. The buffet had a staggered serving time, the guests could come and go from the buffet serving table as they liked between 6:30pm and 9pm. The Catering Manager from the tea made sure to prepare lots of delightful dishes for the hungry guests.
As part of the catering package the clients plumped for the use of Hog Roast Kesh crockery and cutlery comes as standard, however the clients wanted to provide their own special crockery and cutlery for the event as they had had a special set made for their guests which included photos and quotes that had special significance to the happy couple. The team were more than happy to accommodate this request from the clients. But the Hog Roast Kesh team would still take away all the rubbish at the end of the event.
The lucky guests had a fun variety of tasty food at the buffet. All the dishes had been made fresh that day at the venue by the experienced Catering Manager. There was a Classic Hog Roast, complete with crispy crackling, sage and onion stuffing and tangy apple sauce. There was also grilled vegetable and halloumi skewers, grilled vegetable skewers and BBQ pulled jackfruit. There were lots of other tasty platters of food on offer at the table, including: orange and carrot salad with sesame seed dressing, Greek salad, couscous, skin-on wedges and of course, soft gluten free rolls for everyone to enjoy.
The event was a magical sight to behold at sunset with the fairy lights, sparklers, carnival rides and buffet from Hog Roast Kesh. The clients were absolutely delighted with the service they received and look forwards to working with the team again for future events.