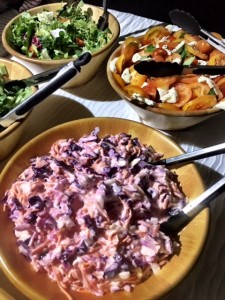 Hog Roast Derry got the opportunity to showcase our culinary creativity last week at the launch party of an artists' retreat on the coast! The retreat's creator and artist in residence Emily, had spent the last 2 years working around the clock to make her dream come true. There were times when she thought she would never get there, but thanks to her perseverance and imagination, she now has a beautiful shabby chic studio with stunning sea views from which to run workshops and provide a tranquil, creative space for budding painters to find inspiration and receive essential tips to improve their techniques. Having always been greatly inspired by the coast herself, Emily knew she had found the perfect spot for her new artistic enterprise and for her launch party, she needed a catering company who could cook on the coast and do justice to the fantastic location with equally inspiring food. After speaking to a member of our friendly team, Emily knew her search was over!
Emily was a bag of nerves when the Hog Roast Derry team arrived at the studio to begin the preparations, but as we patiently roasted the pork and prepared the accompaniments over the course of the next few hour, Emily started to relax and look forward to her big night. After all, who could possible stay stressed when they were met with the heady aroma of our delicious hog roast mingling with the refreshing sea air!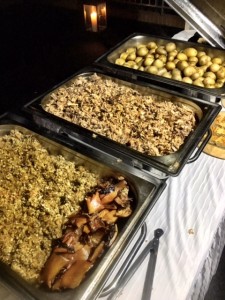 When it was time for the festivities to commence, Emily was thrilled with the influx of aspiring artists all eager to see her new seaside studio. Whilst everyone had a tour and tucked into our coastal cuisine, Emily was busy getting as many people as possible signed up for her art classes. Her new painting pupils were all incredibly impressed with what she had achieved, and they couldn't wait to come back and have a go at capturing the stunning surroundings for themselves in the relaxing space she had created. It was an inspiring evening with inspiring food from Hog Roast Derry and we're sure Emily's artistic endeavour will be a huge success!