Our Hog Roast Dungannon chefs and catering assistants will make your next party or event a truly memorable occasion, regardless of what you might be celebrating or commemorating, as our food is suitable for just about anything you can think of. We're often asked to cater corporate functions, wedding breakfasts and receptions, birthday celebrations, christenings, retirements, engagements, garden parties and festivals, and so much more, so whatever you have in mind, call us to see how we can impress your guests no end with delicious food served by professionals who care.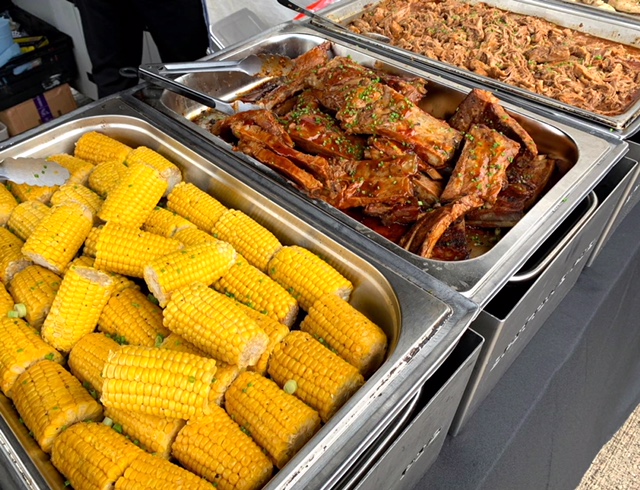 A team of our dedicated Hog Roast Dungannon chefs and catering assistants recently catered a work party for a local business, which was held in the grounds of a posh hotel and featured a whole host of foods that would satisfy the biggest appetites and cater for both personal tastes. We've always made sure to offer plenty of choice and variety to our customers and their guests and on this day, we would wow everyone with our amazing Southern Slow Roast Menu. Featuring your choice of three marinated meats and four hot or cold sides (or a combination), our Southern Slow Roast is highly popular with many of our customers and for Harvey, one of our long-term business customers who asked us to cater this formal affair, he knew it would be perfect for this special occasion.
When Harvey contacted us a few weeks ago, he was thinking of us preparing, cooking and serving our Christmas menu. At this time of year, we offer both our winter warmer and festive menus, and while they are highly popular, Harvey decided on our Southern Slow Roast again, after asking his employees what they would prefer. He chose pork, whole-roasted chickens and sticky pork ribs for the mains and sweet potato wedges with a kick, macaroni cheese, corn cobettes and homemade coleslaw for the sides, and said he couldn't wait to dig in.
On Friday evening, after cooking the marinated meats slowly for hours on end and working hard to prepare the rest of the feast, our Hog Roast Dungannon chef and assistants got ready to serve and Harvey was first in line!