We have a large assortment of machines to choose from at Hog Roast Dungiven. Each one just as good as the other, just some smaller than others. Large ones to house the pig and smaller ones for chickens and jacket potatoes. We pride ourselves in our amazing machines and Friday gone it was time to use the big one as we were cooking for a fair few guests- 500 to be exact!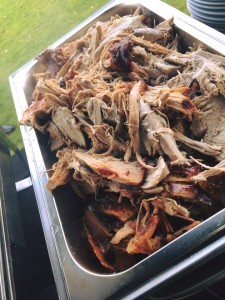 The event was for an office party the company had just won a huge contract and wanted to celebrate and thank its loyal workforce and that's where we came in. We arrived at the office mid afternoon and shown into a huge room to set up. There was tables provided and all we had to do was dress them and cook the food. Pork and cracking was ordered and our absolute favourite to cook! To accompany the pork we made some delicious side dishes of a potato salad, seasonal salad and a huge bowl of creamy coleslaw. We made some dips and sauces too a splendid applesauce, which goes with the pork so well. We also brought along some amazing quiches we had baked on the morning we bake everything fresh for the day.
When the guests arrived we were met by lots of excited people all keen to taste the Hog Roast Dungiven. We first removed the crunchy crackling and handed it around for guests to try. For some this was their first taste of cracking and they all loved it and couldn't believe the flavour the pork was sliced and put on huge platters and we must say we are extremely proud of our pork! Succulent and juicy some think pork is dry well it can be if it isn't cooked correctly ours always is. Soon the guests were helping themselves making sandwiches and telling us how amazing the food tasted and we had to agree. We left some leaflets for future potential customers and feel confident we will be getting calls back as lots showed interest in getting us to cater for parties over the coming months. We do have such a happy work force and have such pleasure in what we do.