Wherever you're located or wherever you are planning to hold your party or event that needs catering, Hog Roast Straidarran can cook you and your guests delicious homemade food made up from quality ingredients. The hog roast machines that we use to cook our food are portable, lightweight and gas-powered, so we can use them pretty much anywhere you need, even if you're thinking of getting married on remote farmland or having a birthday celebration on a beach. Our machines actually act like conventional ovens, so we use them to roast, spit-roast or barbecue meat, but we can also use them to cook vegetables, potatoes, and even pizzas! If you need a full meal cooked for your special occasion, the meat could be sizzling away at the top while the veg and potatoes are roasting to perfection inside.
One of our highly popular party menus here at Hog Roast v is Menu 1, which is our scrumptious pigs in buns, and that's just what the doctor ordered for her husband's surprise birthday party recently. Aruna, who is a family GP, called us a while back to ask about the possibility of catering at a holiday cottage in the middle of the countryside, and we let her know that we can cater just about anywhere you need, so she booked us in and we looked forward to the day of the party.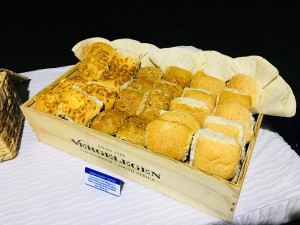 I arrived late morning to set up our equipment and to start preparing the meat, while the immediate family members were out on a day trip. There would only be a handful of guests for this party, so I could easily cater it by myself, so I got to work to ensure that the hog would be roasted in time for an early dinner. I watched over the hog as it slowly sizzled away in its own juices and then much later, while the meat rested, I prepared some fresh salads, sliced the bread rolls and dished up the apple sauce and stuffing. By the time Aruna arrived back at the cottage with her husband and their kids, the rest of the guests had already arrived and the surprise was in full swing.
There was plenty to go round and everyone loved the hog roast rolls so much that I served seconds and even thirds to some, and I knew the leftovers would not go to waste.