Catering up north on Sunday for a 60th birthday party with a hog roast Glynn, and held in the huge grounds of a beautiful home! The house was enchanting full of character and lots of lovely grounds with the most amazing views. When we arrived we chatted to the host and he told us the house had been in his family for generations and it was one of the most beautiful houses we had ever seen. Catering for two hundred and we arrived nice and early and brought with us a mountain of food for the hog roast Glynn.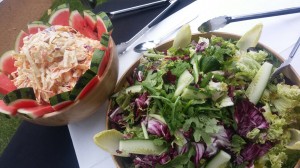 We set up the machine and placed the beef and lamb onto cook as the meats cooked we began to prepare the side dishes. We made some lovely crisp fresh salads and lovely creamy coleslaw. We also made an array of dips and brought with us a huge selection of the finest buns and wraps. As the guests began to arrive they came over and chatted to us and we were soon carving the meats the meats smelt amazing and everyone was commenting on how good the meat tasted as it wasn't long before everyone was tucking into the hog roast Glynn! Some of the guests were asking about pricing and if we could cater for them for up coming events we said we could and handed out some leaflets. The guests were amazed at how reasonable our pricing is and we hear that lots but we do everything in our power to keep the price down but that doesn't mean we scrimp on quality quite the opposite we only use the finest and freshest of ingredients.
The guy who's birthday it was came over and said he was so impressed at the food and never imagined it would look or taste as good. That really made our day good feedback is music to our ears and we love hearing it! As we left we had a few enquires about events its fair to say that is how we get most of our work these days and it is the greatest compliment of all knowing guests love our food that much they too want to book us.