It's been a nasty few weeks on the weather front hasn't it? We're sure that you too, like us, are looking forward to the spring and summer suns now more than ever after these past few weeks of countrywide storms and gale force winds around the UK. It's grating to wake up each morning and see even more torrential rain and stormy winds, but the work never stops at Hog Roast Groggan!
We won't be deterred by some storms to halt us from bringing your events expert catering and brilliant roast dining! I mean, not even a global pandemic was able to entirely halt us from delivering on great tastes for too long, so what is a little storm riding to add to that! Equipped with our easy to set up and pack mobile hog roast units we can still make it to any location at any time, so let's keep the events dining going even through the storms! After the last 2 years we're more determined than ever to not see event cancellations on a frequent basis.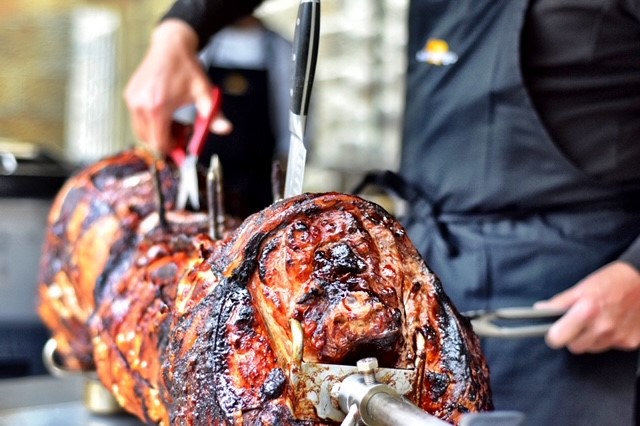 There aren't too many of them at this time of year anyway for obvious reasons, but for any outdoor events we perhaps have had to move indoors for dining, but that isn't a problem whatsoever for Hog Roast Groggan. Gone are the days of needing a huge space outside to build a fire pit and spit roast on for our hog roasts; instead our mobile hog roasting machines are entirely contained units that allow us to recreate this traditional staple of UK event dining indoors or outdoors.
We often prefer outdoor dining just because the spectacle of the hog roast gets to flourish that little bit more, but when the wind is a blowing and the rain a falling we have no issue moving our services indoors provided that works for your event too. Hog Roast Groggan are always more than happy and able to work flexible to the needs of an event, even on an ad-hoc basis. We have the experience and skill to roll with the punches for any event – its what has prolonged us through 20+ years of excellency in catered dining!