If you're thinking of having a fully-catered hog roast at your next party or event, regardless of what that might be, the wise choice is Hog Roast Letterkenny. We have spent countless years making them absolutely perfect while using high-quality, local meat that produces taste, smell and visual sensations. You and your guests will get to enjoy mouthwatering slivers of meat and delicious pieces of crackling carved straight off while hot and fresh, whether you want to savour both as part of a plated meal together with your choice of seasonal vegetables and potatoes, all enveloped in or own onion gravy, or as pigs in buns – both of which feature our homemade duo of sage and onion stuffing and apple sauce.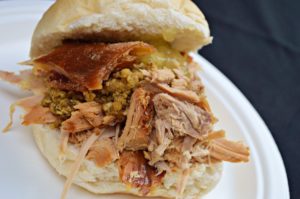 Nevertheless, our Hog Roast Letterkenny professionals also provide plenty of alternative mains and additional dishes to ensure that all of your guests get to appreciate our wholesome food too. Whether you're organising a small informal get-together with a sprinkling of guests or a huge posh party with hundreds or more, we can freshly prepare, cook and serve spit roasts instead, like turkey, chicken, beef or lamb or even a barbecue medley of sausages, ribs and burgers. We can also provide dishes to suit dietary lifestyles, such as gluten-free, vegan or vegetarian and we offer a whole host of extra options including canapés, sides, starters and desserts, so there's something for everyone.
When Ross contacted Hog Roast Letterkenny about catering a school dance, he was under instruction to book a hog roast so we could make our succulent pigs in buns for most of the eighty guests but he also needed a vegetarian and vegan option. While we can provide both, in this case, Ross wanted one alternative that both lots of guests could enjoy. After hearing about our veggie skewers, which have halloumi which we can omit for vegans, Ross thought they would be ideal.
On the day of the dance, our team cooked a great feast for the pupils, staff and parent chaperones, with tasty veggie skewers featuring tomatoes, mushrooms, courgette, peppers and red onions, all served alongside piles of pigs in buns full of meat, crackling, stuffing and apple sauce and by the end of the evening, everything had been completely devoured.