Pork and cider are a match made in heaven, which is why the organisers of a local cider festival asked the Hog Roast Lisburn team to provide some of our unbeatable hog roasts sandwiches for the attendees for the duration of the event! The reason they chose us in particular, is because just like them, we are also huge advocates of local produce and we only every select the best ethically-reared meat and locally-sourced ingredients in every single aspect of our menu. They were also impressed with the fact that even if we are cooking for a large crowd, we never pre-prepare anything, and we always make everything from scratch on the day!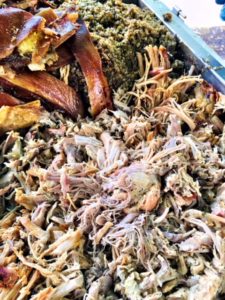 We arrived at the venue several hours before the cider festival got underway, to allow our skilled chef plenty of time to work his magic on our pork as it roasted slowly, ensuring that it was falling off the bone and bursting with natural flavour by the time our cider-loving diners arrived!
True to our word, when the doors opened, we were carving the tender meat ready to be served with our moreish apple sauce and irresistibly crispy crackling!  With the cider soon in full flow, it wasn't too long before our serving table was inundated with people eager to tuck into one of Hog Roast Lisburn's signature slow-roasted pork sandwiches. We multi-tasked to the max to make sure everyone was served quickly without feeling rushed and even on busy events like this one, we always take time to chat to our diners and answer any questions they have about our food.
The local ciders and the equally local pork were both going down very well and we received some very enthusiastic feedback from everyone who tasted it! The event organisers were thrilled with the turnout on the day and felt the event had done wonders for the local cider producers who were there promoting their products. They thanked the Hog Roast Lisburn team for providing them with the ideal culinary accompaniment for the day and they felt that our superior pork made their cider taste even better!