Hog Roast Irvinestown often caters parties and events, both locally and further away, and we are renowned for the amazing hog and spit roasts that our highly-trained chefs have perfected over many, many years. We've built up a great following for our food and not just our delicious hog and spit roasted meats, as we can provide so much more when catering special occasions. However, did you also know that we hire out our equipment so that you can DIY?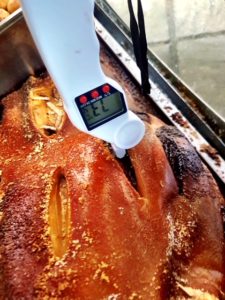 Whether you're a professional chef looking to cater a function by cooking fabulous food using one of our trusty hog roast machines or a domestic cook, doing-it-yourself at home, at a gathering with friends and family, for example, our rentals include the expertise, knowledge and years of experience of our excellent chefs. We don't just hire out our equipment blindly – we want to ensure that our customers learn how to use it, both for safety reasons and to be able to cook well using it, regardless of the fact that it is so easy to use. You can use our hog roast machines to cook different kinds of meat if preferred, and you can barbecue and use it to cook potatoes, vegetables and even pizza, as they were designed and built to work like traditional ovens.
When Carl contacted Hog Roast Irvinestown about hiring one of our smaller machines to cook for the family at home, for his wife's birthday, he was slightly nervous as it would be his first time. We have rented out our equipment to many a budding chef and many first-timers and by the time each one has learned how to use it, the fears have always dissipated.
On the day of Carl's wife's birthday party, our Hog Roast Irvinestown chef delivered the hog roast machine to him (as delivery and collection are both included in the price) and set it up in their back garden. Our machines are as easy as setting the temperature and turning it on before watching over the prepared meat and that's just what Carl did with his small hog that day, which he cooked to absolute perfection, and he said he couldn't have done so without one of our amazing machines.