A Hog Roast Londonderry is simply perfect for any and all events. Over the past decade we have steadily built up our business and now offer catering for private functions, weddings and corporate events. Due to the flexible nature of Hog Roast Londonderry we can cook for any number of guests and there are no limits on what our chefs can create thanks to our purpose designed hog roasting machines and equipment.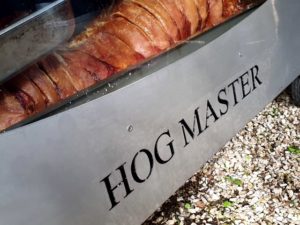 This Thursday we were catering at a local businesses corporate luncheon. Every year the company hosts other local businesses in the area to come together as a networking opportunity and Hog Roast Londonderry had been asked to provide a hearty lunch for our clients and their guests.
Often corporate catering is the last thing on people's minds and as a result the food can be disappointing and does little to enhance an event. However, when Hog Roast Londonderry provide a corporate lunch we put in the upmost attention and care to ensure your guests are left feeling full and impressed by what you have provided.
For this event, Harrison, managing director of the company, had contacted us. Having been to some of our events himself he knew that Hog Roast Londonderry wouldn't disappoint when it came to providing delicious food for his event. Harrison had asked us for our signature Hog Roast Londonderry rolls to be served alongside some of our freshly made salads and ordered a mushroom and spinach quiche for any vegetarians in attendance.
Once we arrived and got set up Harrison came over to thank us for our efforts. He mentioned that he could already tell his guests would be impressed by the quality of the food we were providing and that he would no doubt be getting lots of enquiries for us in the future which is truly brilliant to hear!