Did you know that we also sell and let our unique Hog Roast Machines? With the capability to cook an entire pig, our handmade, custom designs can help to unlock your business potential, or simply make your barbecues cooler than the rest, when you learn how to serve our glorious Hog Roasts for yourself. We also have tours of our warehouses, where you can see our machines being made, and we offer instructional classes on how to operate the machines, so you can get the best out of them.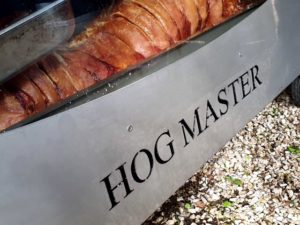 This week, the team from Hog Roast Magherafelt provided one of their instructional classes, whilst simultaneously catering for a private event. We spoke to Elaine, the owner of a semi-professional football club nearby. She'd been thinking of buying one of our Hog Roast machines, so she can sell Hog rolls to the fans on match days. To test the waters she decided throw a barbecue at her house, where our chef would walk her through the working of the machine, and she could taste the results herself.
The team from Hog Roast Magherafelt arrived at Elaine's house bright and early. It was a glorious day and so they set up the machines outside. Today we'd brought the Hogmaster, a machine fit for Hog Roasts and Spit roasts. Our chef made sure that Elaine paid close attention whilst he set up the machine and butchered the pig. Our catering assistant meanwhile laid out a serving table, with napkins, disposable plates and disposable cutlery, as a well as a few chairs for people to sit on. Guests arrived at one in the afternoon, by which time the smell of the hog was wafting through the air and Elaine was becoming used to operating the machine.
Fortunately Elaine's husband was also home, so he could take care of a few more of the hosting duties whilst she learned the ropes. When serving time came, she also helped the chef to plate up, before sitting down to see just how tasty the pigs in buns were for herself. Like the rest of her guests, she was blown away by how fresh they were. She was also surprised at how easy it was to cook!
A natural at the art of Hog Roasting, Elaine decided to buy one of our Hogmasters to use on match days and thanked us for a wonderful event. With nothing else left to do, our team from Hog Roast Magherafelt tidied away their mess discreetly and disposed of any waste offsite.