As a wedding caterer we are not merely limited to just the big day itself. Wedding catering can go well beyond the day itself and bring customers multiple dining experiences to mark several stages of the marriage. That is what we offer here at Hog Roast Newtownards as a wedding caterer: the opportunity to mark each new stage of life with a celebration amongst friends and family with stylish catering and dining as unique and brilliant as your relationship.
We are here for well before your wedding is even coming to planning. After your engagement couples will often throw an engagement party to formally announce and celebrate the partnership to close friends and family, and so where there are guests in attendance for a celebration you know that Hog Roast Newtownards can cater to them. We'll provide catering to your engagement party in form of a buffet or a set menu dinner, and you can perhaps consider this a nice trial run for your wedding itself as you see (and taste!) just how much quality our catering brings to the table.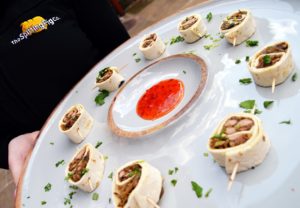 As for the wedding itself, our catering can even fit around both ends of the day too. As a nice bracket to the special day, our catering team can come the day before and cook up a special pre-wedding dinner for just the bride and grooms' parties to get everyone nice and settled in for the weekend ahead. Similarly we can come back the day after your wedding and provide a special post-wedding breakfast or brunch for the bride and groom's party too. A hog roast brunch is just the tonic you need after a long night of partying to get back to it and head off for your honeymoon!
And even after years of marriage Hog Roast Newtownards wedding catering is again here for you with our anniversary dining. Each milestone you can depend on us to provide an excellent dinner either just for the two of you, or for all of your close loved ones too in a rich celebration!
Love never stops when you are with Hog Roast Newtownards, so let us keep sharing it with you through our delicious dining through every step of your relationship!