We're still enjoying the summer (even despite the odd downpour or chilly night) and our catering services are as popular as ever. Over the weekend we provided the food for an event that we don't do too often – a housewarming party – as our new customers Julian and Nena have now settled in the UK after living in Asia for several years. Having worked on pig farms abroad, they wanted to celebrate moving in together in this country with a traditional hog roast in Castledawson with family and friends, so called us to enquire about our prices and menus. We have lots of different options available and Julian was very surprised to find out that we can also provide all kinds of meat options (as well as pork), and that we can cook spit roasts and barbecues, as well as offer choices for those with dietary requirements. We can even provide things like canapés if required and we often cater for ultra-formal sit-down events.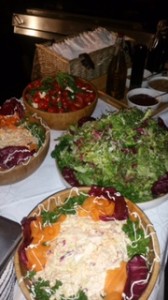 For their housewarming party, however, Julian and Nena wanted an informal get-together with a menu of our sought-after, lip-smacking hog roast rolls and some fresh, simple salads. You can create your own menu if you prefer but in this instance, the couple wanted a green leaf salad and our homemade coleslaw to complement the hog roast in Castledawson.
We arrived at the house in the afternoon as we would be serving early evening and a hog roast in Castledawson takes a few hours to cook. We set up the gazebo and serving table in the garden and turned on the hog roast machine, ready to prepare the hog for its roasting. You need to keep a careful eye on it as it slowly cooks.
Once it was done, cooked beautifully, we then let it rest for half an hour while we prepared the salad dishes and sliced the bread rolls, then dished up the apple sauce and stuffing. The guests had all arrived by the time I got my carving knife out to slice off the crispy bits of crackling and carve off lots of slices of the succulent meat, and it was finally time to stuff the bread rolls full of pork goodness.