Across the country, a number of festivals and events have been organised and are soon to take place in the name of 'Gay Pride', and this week, the team from Hog Roast Omagh found themselves the hosts of an event that would be for that very purpose. We were first contacted by Lauren, a young student who has always been passionate about such events and was this year responsible for organising a BBQ that would be part of the Pride festivities. She'd laid on food, drink and entertainment for her fellow students!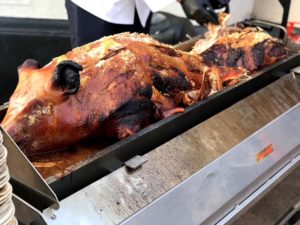 We were to provide our famous pigs in buns for the event – hog roast served with crusty bread rolls and a selection of sauces. The BBQ would run from twelve noon through to eight o'clock in the evening, and we therefore arrived on site by 9 AM, as Lauren and a small group of volunteers were setting up. Whilst our chef from Hog Roast Omagh set to work butchering the hog and placing it on the machine for roasting, our catering assistant helped the students to set up their gazebo, before erecting our own. Gazebos were an essential today, although not for protection from the rain, but rather the baking sun.
By twelve noon, guests had already begun to arrive and our Hog had roasted to a wonderful golden hue, as it gave off a heavenly aroma. We called for service and a queue quickly formed. The chef served the guests with a smile, and they ate in the sunshine as the DJ played relaxed summery music. The pigs in buns were available at any time for the guests whilst the BBQ was happening, and many people returned for seconds and thirds – but that was okay, as the cost of their ticket for the BBQ entitled them to as much Hog Roast as they could manage, and there was plenty to go round!
At the end of the day, Lauren had raised a whopping £200 for LGBTQ causes and everybody had thoroughly enjoyed themselves. With nothing else left to do, our team from Hog Roast Omagh tidied away their mess discreetly and disposed of any waste offsite.