Laughter, delicious food, and a generous spirit came together in a fantastic fusion of fun and fundraising at a recent comedy gala in Northern Ireland, where Hog Roast Millbrook had the privilege of providing a feast for 400 guests. Our mission? To not only tickle their taste buds, but also bring smiles to their faces as they generously contributed to some wonderful causes.
As the guests arrived, the enticing aromas from our grills welcomed them. For this special event, we unveiled our Alfresco Menu, a culinary marvel designed to please every palate. Stealing the show, as always, was our perfectly roasted hog, boasting tender and juicy pulled pork, accompanied by the irresistible crunch of crispy crackling and the comforting flavours of savoury stuffing and apple sauce.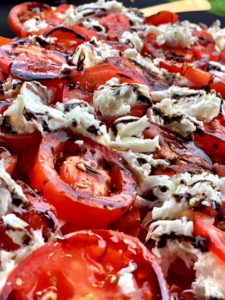 Not forgetting about the needs of our veggie and vegan guests, Hog Roast Millbrook prepared grilled veggie skewers, with the option to add halloumi. These kebabs were complemented by tzatziki dip and chilli sauce, all served on freshly made flatbreads. The sides were just as diverse, with coleslaw, a selection of seasonal salad leaves tossed with bell peppers, spring onions, and cucumber drizzled with our chef's vinaigrette, a delightful heritage tomato and buffalo mozzarella salad, and roasted new potatoes, offering something for every palate.
In addition, each table featured a sharing platter, a rustic wooden charcuterie board topped with Italian deli meats, cheeses, artisan bread, and dressings, offering a delightful medley of flavours for guests to share and enjoy.
As the evening continued, the feast was brought to a classic conclusion with some delicious desserts. Cheesecake and profiteroles provided the perfect end to this fantastic feast, and proved a huge hit with the guests.
In line with our commitment to eco-friendliness, all the food was served on our wooden crockery with matching cutlery, and any leftovers were carefully boxed up and donated, ensuring that nothing went to waste.
The gala was a roaring success, with the comedians delivering punchlines that had everyone in stitches. The raffles offered great prizes, and, thanks to the incredible food provided by Hog Roast Millbrook, guests left with full bellies and full hearts.